THE polls are now open and voters across the UK voters will elect 73 Members of European Parliament(MEPs) to represent 12 regional constituencies.
Voters choose a single party and the number of elected candidates from each party's list depends upon the proportion of votes cast.
When you go to vote, the ballot paper will have a list of parties or a name if a person is standing as an independent.
You vote by putting a cross in the box next to the party or person you want to vote for.
THE CANDIDATES LIST:
Change UK: Andrea Cooper, Dan Price, Arun Banerji, Michael Taylor, Philippa Olive, Victoria Desmond, Andrew Graystone, Elisabeth Knight.
Conservative: Sajjad Karim, Kevin Beaty, Jane Howard, Arnold Saunders, Wendy Maisey, Thomas Lord, Anthony Pickles, Attika Choudhary
English Democrats: Stephen Morris, Valerie Morris.
Green: Gina Dowding, Wendy Olsen, Jessica Northey, Geraldine Coggins, Rosie Mills, Astrid Johnson, Daniel Jerrome, James Booth.
Labour: Theresa Griffin, Julie Ward, Wajid Khan, Erica Lewis, David Brennan, Claire Cozler, Saf Ismail, Yvonne Tennant.
Liberal Democrats: Chris Davies, Jane Brophy, Helen Foster-Grime, Anna Fryer, Sam Al-Hamdani, Rebecca Forrest, John Studholme, Frederick Van Mierlo.
The Brexit Party: Claire Fox, Henrik Overgaard Nielsen, David Bull, Gary Harvey, Ajay Jagota, Elizabeth Babade, Sally Bate*, John Kelly.
UK European Union Party: Sophie Larroque.
UKIP: Adam Richardson, Jeff Armstrong, Fiona Mills, Nathan Ryding, Michael Felse, Ben Fryer, John Booker, Alexander Craig.
Independent: Mohmmad Aslam
Independent: Tommy Robinson
*Sally Bate has resigned since the official list of candidates was published
When will we get the results?
The Netherlands and the UK vote first on Thursday 23 May then a handful of countries go to the polls on Friday and Saturday.
Most member states (21 of them) run the election on Sunday.
Results cannot be announced before the last polling station closes at 11pm Central European Time (CET) in Italy.
European elections: What time are the results?
Here are the key timings for the declaration of the UK's results in the European parliamentary elections. All times are approximate.
– 10pm, Sunday May 26
Results can be officially declared on Sunday May 26 from 10pm onwards.
In most areas of the UK, votes will have been counted earlier in the day and the results passed to one of the regional declaration centres.
Once final checks and calculations have been completed, the returning officer at the declaration centre will then announce the result for their region.
– 10.30pm
North East England is expected to be the first region to declare. The result in 2014 came at 10.15pm.
Three seats are up for grabs in the North East, two of which are being defended by Labour and one by the Brexit Party.
If Labour loses one or both of its seats, it could signal a collapse of the party's support in its former northern heartlands.
– 11pm
Yorkshire & the Humber (six seats) is likely to be the second region to declare.
Labour and the Conservatives are each defending two seats here.
South West England (six seats) could also declare around this time, where the Greens will be hoping to hold on to a seat and maybe pick up a second.
The Brexit Party will be looking to increase its current tally of one seat in the region, possibly at the expense of the Conservatives.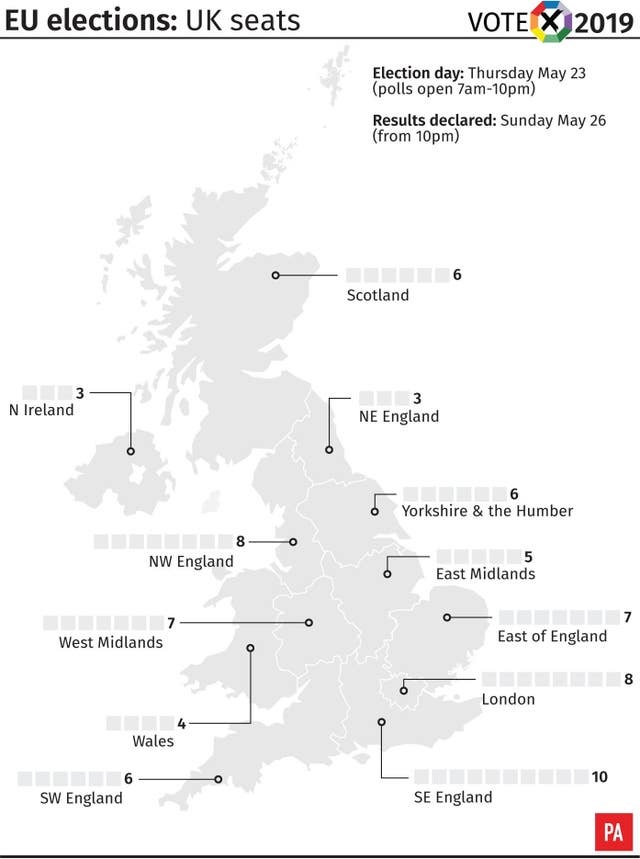 – 11.30pm
East of England (seven seats) and the East Midlands (five seats) are expected to declare around this time.
Both could see the Brexit Party make gains from the Conservatives, particularly in the East of England where the Tories are defending three seats.
– 12am, Monday May 27
Labour, Plaid Cymru, the Tories and the Brexit Party are each defending one seat in Wales. Will any of them manage to pick up a second – or be wiped out entirely?
The West Midlands (seven seats) is also due to declare around midnight.
– 1am
North West England (eight seats) and South East England (10 seats) should have declared by now.
In both regions Labour and the Tories are likely to be squeezed by the Brexit Party on one side and the Liberal Democrats and Greens on the other.
South East England was the only region of the UK in 2014 to elect a Liberal Democrat and the party will be keen to hang on to its seat, and possibly add another.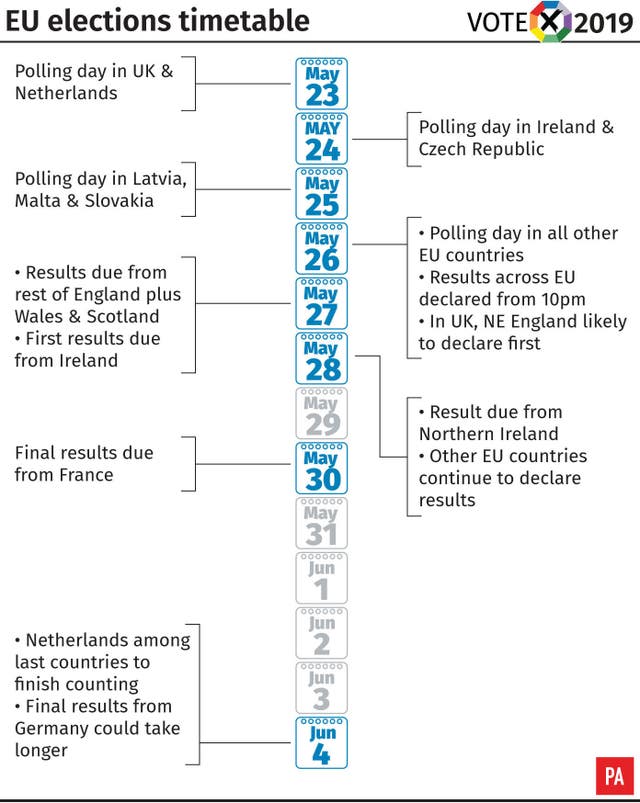 – 2am
London is likely to declare soon after 2am.
There are eight seats up for grabs, four of which are being defended by Labour and two by the Tories.
The Lib Dems, Greens, Change UK and the Brexit Party all fancy their chances here, and, once all the votes are counted, the political make-up of the capital's MEPs could be radically changed.
– 11am
Scotland (six seats) will take longer to declare than the rest of England and Wales, because the Western Isles will not begin counting results until Monday.
The official result is not due to be announced until late morning, but local results will give a sense of how the parties are performing.
The SNP is defending two seats and are hoping to gain a third, while the Tories could lose their one seat.
Monday morning is also when counting gets underway in Northern Ireland.
– By 6pm, Tuesday May 28
Northern Ireland has three seats, all of which are likely to have been allocated by late Tuesday afternoon.
A different system of proportional representation is used in Northern Ireland, meaning seats are allocated over a sequence of counts rather than all at once.
The first seat is likely to be allocated by Monday evening, with the second and third on Tuesday.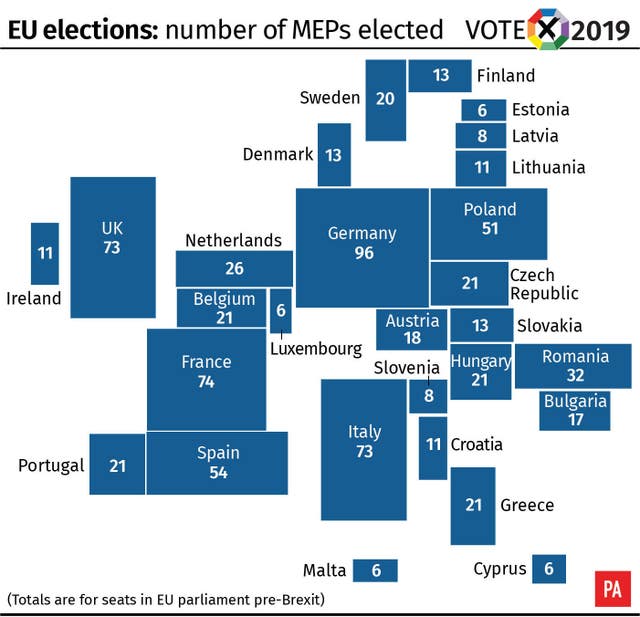 How do European elections work?
Under a system known as the d'Hondt method, parties put forward a list of candidates who are then elected on a proportional basis, so if a party obtained 25% of the vote, they should, in theory, obtain 25% of the seats for that country.